On my way home after dinner with Joe yesterday I decided to swing by "The Man Shack" and see what they were up to.  Ended up finally leaving at 0330 this morning.  Seriously the sun coming back up was the clue time had elapsed.
While there we ended up playing around with my camera.  While most of the images are nothing special, there are two which stand out.  The second was inspired by the success of the first.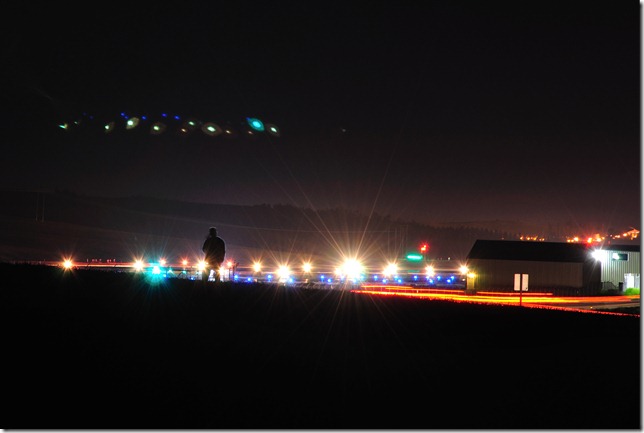 The lights above are reflections caused by the UV filter I hadn't taken off.  The second picture ended up being prefect given the luck of a plane taking off as the picture was being taken.  I thought the exposure had been plenty long, but after inspecting it  I should have let it expose about another 15-20 seconds.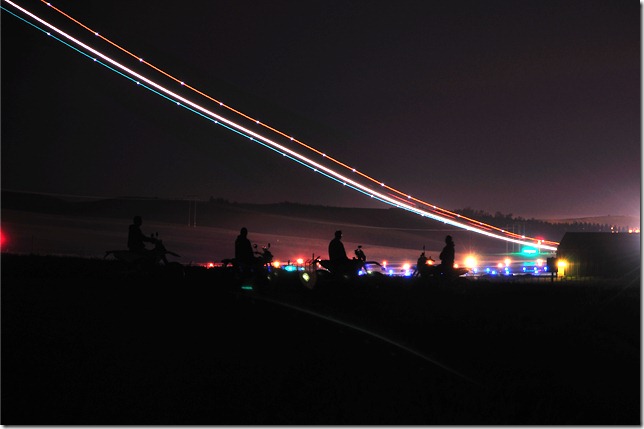 Barron is the owner, editor, and principal author at The Minuteman, a competitive shooter, and staff member for Boomershoot. Even in his free time he's merging his love and knowledge of computers and technology with his love of firearms.
He has a BS in electrical engineering from Washington State University. Immediately after college he went into work on embedded software and hardware for use in critical infrastructure. This included cryptographic communications equipment as well as command and control devices that were using that communications equipment. Since then he's worked on just about everything ranging from toys, phones, other critical infrastructure, and even desktop applications. Doing everything from hardware system design, to software architecture, to actually writing software that makes your athletic band do its thing.