So while writing a blog earlier Stardock decided to throw up an ad.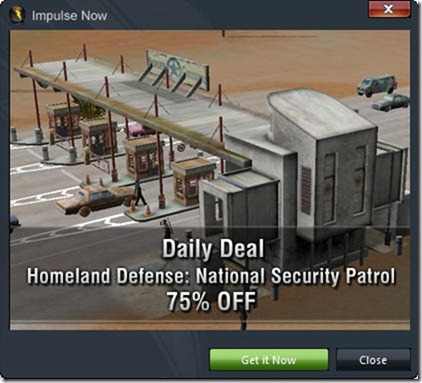 Now we can train your kids that road blocks and searching your vehicles are normal. This is definitely a game I would NOT buy. Not only because it looks like the mechanics were crapped out by some high school coder, but the whole concept just bugs the crap out of me. I understand the stopping smuggling, though legalization would help fix that problem wouldn't it? I understand preventing unlawful entry. I'm fine with that, but the whole concept of making it a game just bugs me. Not to mention this line from the description:
Outfit, arm and train your guards with top-of-the-line life-saving security.
That sentence just doesn't make sense. How do you outfit and arm someone with security? What does bug me though is this game could easily be used to twist people into thinking that everything DHS comes up with is a good idea. Such as making people think the TSA scanners will actually make us safer.
Though I must say this is probably better than say "Homeland Defense: TSA Agent". Where you goals are to find out if little Tiffany is smuggling coke in her cooch.
TMM is the owner, editor, and principal author at The Minuteman, a competitive shooter, and staff member for Boomershoot. Even in his free time he's merging his love and knowledge of computers and technology with his love of firearms.
Many know his private name and information however due to the current political climate, many are distancing themselves due to the abandonment of Due Process.
Similar Content