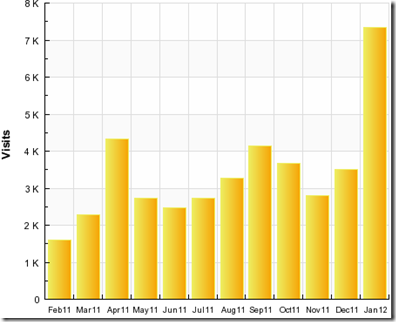 So evidently I really must have done something right this month. I dang near went double my previous best. For anyone who has decided to stick around, sweet, I'll try and keep the cream flowing.
The big item that really shoved this month over the top was my Open Response to Joan Peterson. Evidently that was a verbal lashing that people seemed to appreciate. For the record, when I wrote it I didn't even really expect it to even be a blip on the radar so that makes it doubly awesome. By the way, as expected, there has been zero response or acknowledgement of my response by Joan. Given how it spread like fire it is hard for me to believe that she didn't see it.
I also got a bunch of feedback that proved how much of a wonderful job I'm doing. I will have more on that later though. Sebastian touched on it today but I noticed something this afternoon and I need to do some research and connect the chronological dots.
Thanks to everyone who linked me, and thank you to Uncle that pushed me over the 7000 mark linking my A Taste of Home post. Which I'm glad to say is starting to take off. I'll blog more on that tomorrow night though.