Moka was a beautiful chocolate lab who has been part of the family since I was 13. Yesterday she was put down. She was 13 and she was suffering from arthritis, amongst other things, and could barely walk let alone stand. Below is a poem I wrote.

She started her life as a happy, bounding ball of mischief.
Her energy knew no bounds.
As time went on, she became more than a pet;
she was a loyal member of the family.
She hunted and chased anything and everything,
just for the sake of protecting her domain.
Nothing entered her territory without permission first.
Protective, loving and carefree,
she lived her life to the fullest.
She was a rare one indeed; as she was able to catch a squirrel,
a feat not easily achieved.
Friendly, proud and beautiful,
she could really bring out the smiles.
She never turned down attention
or an opportunity to curl up by a warm fire.
Scratches behind the ear were pure pleasure for her.
She did get into trouble from time to time,
but who doesn't?
No matter what, she knew she was loved.
Thirteen wonderful years she lived,
happy and loyal to the end.
She is now at peace.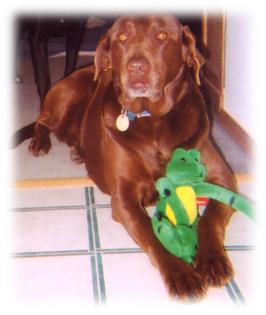 Rest in Peace Sweet Girl
April 1, 1997 to May 21, 2010