So I was doing some checking tonight and discovered the following sequence of events.
As of 2140 Pacific time Smoke and Thunder(the real site) is down! Not only is it down, it appears it has been wiped:

I guess Smoking Blunder was too much for him. There's a couple different options of why it went down from he figured the troll was done to someone's lawyer was fully involved. This change was quite abrupt, I was working on checking for new profiles when all the sudden the member directory stopped working.
At 2147 I noticed the site now does the following the following: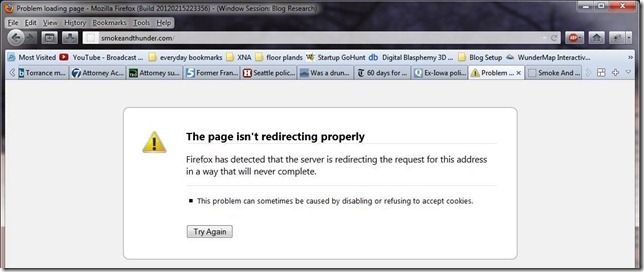 This happens in chrome as well.
Now at 2151 it shows the following: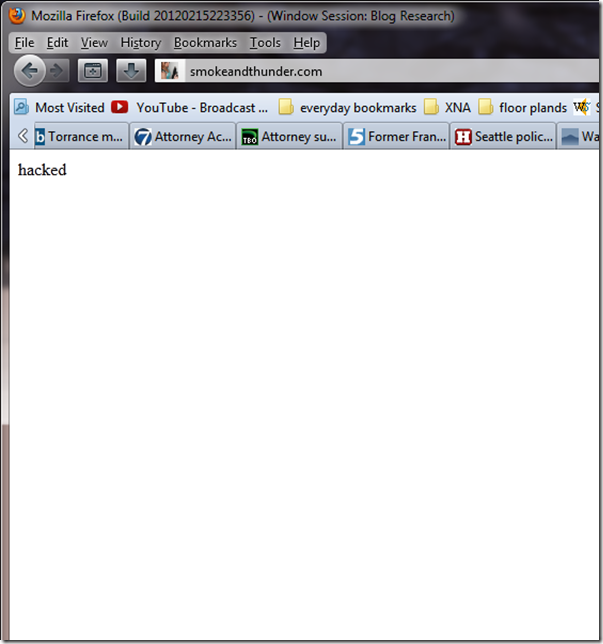 Umm, I don't think so Timmy. If anyone hacked that site, I know of no hacker that would just write "hacked". What would have happened would be, porn, general defacement of posts, or best of all a redirect. Given the newly discovered Smoking Blunder, I would actually expect it to redirect there.
As defined by BenC in GBC:
hacked: i decided my attempt to troll the gun blogging community was doomed to failure, so i am taking my site down and putting "hacked" up to attempt to troll them further
Dude, I work in this crap for a living and as a person who loves being the "Red Team", though I prefer the Blue to win in real life, I can think of no reason I would just display hacked on your site. Especially since it isn't even HTML. It's as if your entire website was erased, not hacked. So, please, to continue the win, please continue visiting Smoking Blunder for your Gunnie Social Network needs. Just look how funny those guys are!
Update 2227:

Yeah, I don't think so Tim. One that line doesn't make sense, two, why don't you just restore from your own back up. You make backups right?
Update 2/27/2012 1100 Pacific:
Via email from Tango and I just verified it, Smoke and Thunder now just displays a webpage for his hosting provider. It is suspected that he has surrendered the domain. As I'm using my WYSIWYG editor I can't easily put up a screenshot, but you can do it yourself if you want. Guess he decided he couldn't take the heat and got the hell out of the kitchen.
Update 2/27/2012 1345 Pacific:
It's not over yet! It appears that he's moved hosts and is coming back for round two. The site now shows a default construction page.
TMM is the owner, editor, and principal author at The Minuteman, a competitive shooter, and staff member for Boomershoot. Even in his free time he's merging his love and knowledge of computers and technology with his love of firearms.
Many know his private name and information however due to the current political climate, many are distancing themselves due to the abandonment of Due Process.