So here I am in BFE Idaho, in a small town that is a blink of an eye as you drive through.  I have been open carrying for the most part unless I am wearing my coat or am wearing my staff shirt.
As I'm standing there talking with a couple hams an officer comes up looking for another officer, who actually happens to be a ham.  We start getting the info for who he's looking for and I notice he looks at my right hip a couple times.  Immediately my brain locks on the cue.  Currently I'm not worried at all, I'm surrounded by people I know, many of whom are also currently carrying concealed weapons. It just so happens that I'm just the one who doesn't give a crap about someone being upset by seeing me with a gun.
After a brief attempt to pull his partner up on the ham frequencies since his PD repeater failed the conversation goes something like this. (Officer's words, my words)
Can I get you to untuck your shirt and cover up your sidearm?

Any particular reason? Open carry is still legal in Idaho right?

Yes, it is legal, but a lot of people have noticed (him) and it is making some of them uncomfortable.  I like that you're carrying and I appreciate that you're carrying, I just want to put people at ease.

(At this point I untuck again choose your battles wisely.)

Thanks.
A couple different observations.  First, out of all the time I have been carrying, no one has really said anything to me about it.  I know some people it does make them uncomfortable but how is this for a comparison?
Officer, that man over there is carrying a gun. I don't like that and can you do anything about it?
Versus:
Officer, that man over there is black.  I don't like him being here and can you do anything about it?
What I was doing is perfectly legal and overall if people were noticing, he was just getting tired of having to calm the sheep.  In that case I sympathize.  I did discover though that the Sherriff for Idaho County is more of a FUD in that he doesn't want people open carrying in cities when you drill down into it.  So couple that with what happened while I was carrying in town we are starting to see a possible narrative.
I will give the officer the benefit of the doubt for two reasons.  First he was civil and respectful.  He wasn't in a "respect my authoritah" mode.  Secondly covering up created a new problem.  Technically without a permit wouldn't be able to conceal carry.  He never asked to see my permit, even after switching to concealed carry.
Everyone I talked to that wasn't there got a total laugh out of it though.  It's freaking rural Idaho, everyone around here is carrying a gun!  I got the officers name but didn't record it immediately there after.
Overall it was an interesting experience, doubly so for rural Idaho.  I have heard stories of Moscow PD abusing open carriers, but Riggins isn't exactly huge.
So after getting through all that, here's a race picture.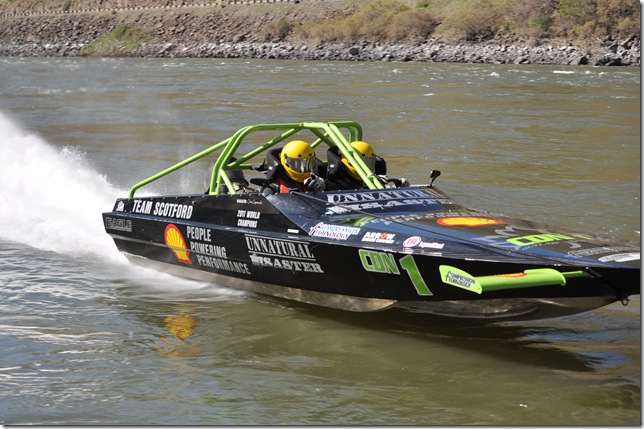 Sadly I clipped the nose off the boat otherwise that would have been one bad ass picture.  This boat is currently the only remaining turbine and the worlds leader.
TMM is the owner, editor, and principal author at The Minuteman, a competitive shooter, and staff member for Boomershoot. Even in his free time he's merging his love and knowledge of computers and technology with his love of firearms.
Many know his private name and information however due to the current political climate, many are distancing themselves due to the abandonment of Due Process.
Similar Content